Ready to View Your Tee Time?
Have you already registered for the golf outing?
To view your tee time for the event, please click below.
Join Us for Coach Sam's 2020 Golf Outing!
Rain or shine, Coach Sam's Inner Circle Foundation will continue to serve the youth of Cleveland! We hope you will help us further our mission by participating in this year's annual golf outing at Stonewater Golf Club.
Coach Sam's 2020 Annual Golf Outing
Sponsored by Electronic Merchant Systems
Stonewater Golf Club
Monday, August 10th
Click the button below to order your tickets or learn about our sponsorship opportunities.
COVID-19 Response
Unfortunately, due to current restrictions related to COVID-19, we will not be holding a dinner and reception this year. We thank you in advance for your patience as we plan this event with public health and safety in mind.
Please review Stonewater Golf Club's new health and safety regulations prior to the event at http://stonewatergolf.com/.
About the Foundation
Coach Sam's Scholars' mission is to provide educational support to at risk children through a combination of literacy, personal development, and health and fitness programs designed to develop the whole child.
Since 2009, Coach Sam's has been successful in reaching hundreds of children. Coach Sam's programming has led to improved academic performance and self-confidence for our young scholars, creating a path toward a promising and brighter future.
Due to the tireless efforts of the staff and volunteers and financial gifts from donors, we are well on their way to becoming a premier literacy program. Starting with 2 schools in 2009, we have now expanded our reach to 11 for the 2019/2020 school year.
Monday, August 10th, 2020
Stonewater Golf Club 
1 Club Dr,
Highland Heights, OH 44143
Purchase Your Tickets Now!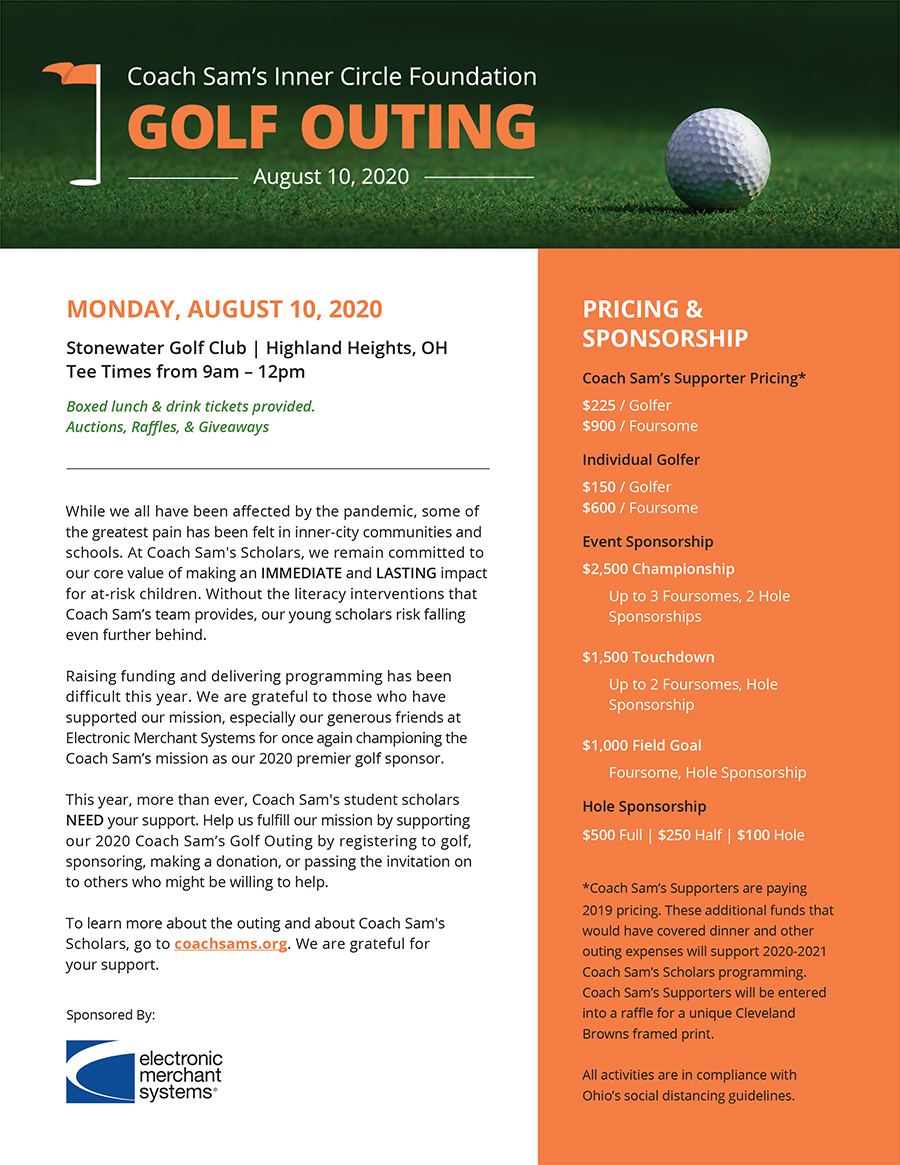 Coach Sam's Supporter Pricing*
Single Golfer: $225
Foursome: $900
*Please note, the prices above are golf outing prices for a normal (non-COVID) year. These extra funds which typically would have been used to cover dinner and other expenses will go straight to programming for our at-risk kids for the 2020-21 school year. Coach Sam's Supporters will be entered into a raffle for a unique Cleveland Browns framed print.
---
$2,500 Championship Sponsorship
2 Foursomes
2 Hole Sponsorships
Additional Event Sponsorship
---
$1,500 Touchdown Sponsorship
2 Foursomes
1 Hole Sponsorship
---
$1,000 Field Goal Sponsorship
1 Foursome
Hole Sponsorship
---
Individual Golfer
Single Golfer: $150
Foursome: $600
---
Coach Sam's Inner Circle Foundation is a 501c3 non-profit charitable foundation (Federal tax ID 01-0927220); a portion or all your contribution is tax deductible; please see your tax advisor for details.