First, on behalf of ALL staff- WE MISS YOU! And We look forward to seeing you again soon!
 We hope you are doing well and enjoying time with your family. During this time at home, it's important to still do the things that are most important: have fun, stay fit, and keep reading! 
Here at Coach Sam's, we miss seeing your smiling faces in the classroom each day, so, rather than just "miss" you and ALL students, we are working to connect with you remotely. During this time, we can read stories, share ideas, fitness tips, brain breaks, and have fun together like we did before! We are doing our best to bring the "Aiming Higher" program into your homes through your phones, computers, tablets, and any other electronic device you may use.
Every Wednesday, we will post helpful links, videos, and activities to our Coach Sam's Playbook. ALL students are encouraged to join in, participate, and share. There may even be some competitions and prizes in the future. Every Wednesday, you and your friends can stop by https://coachsams.org for a weekly connection!
We know this is a difficult time and there are going to be times that you might feel sad, fearful, alone, or frustrated. We are here for you! If you would like a phone call from one of our staff, call us at (216) 223-3020, and we will reach out to you personally! 
One of the books (you may have already read this year) that is important to Coach Sam's program is called Something Beautiful by Sharon Wyeth.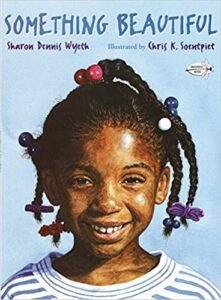 In this story, a little girl longs to see beyond the scary sights on the sidewalk and the angry scribbling in the halls of her building. When her teacher writes the word beautiful on the blackboard, the girl decides to look for something beautiful in her neighborhood. Her neighbors tell her about their own beautiful things. Miss Delphine serves her a "beautiful" fried fish sandwich at her diner. At Mr. Lee's "beautiful" fruit store, he offers her an apple. Old Mr. Sims invites her to touch a smooth stone he always carries. The little girl realizes that beautiful means "something that when you have it, your heart is happy." Her search for "something beautiful" leaves her feeling much happier because she has experienced the beauty of friendship and the power of hope.
During this time, I encourage you all to find your "Something Beautiful" or something that makes your heart happy. It can be ANYTHING- a toy, a snack, a joke, or maybe even a good book.
I am including a quick lesson with a few activities that can be done with ANY book that you might have. Hope you enjoy!
See you soon!
Best Wishes,
Ori Akrish
Executive Director
Coach Sam's Scholars
(216) 223-3020
A Few Jokes: 
Why do ducks make great detectives? 
They always quack the case! 
What color do cats like? 
Purr-ple!